Commercial Pest Control Services & Inspection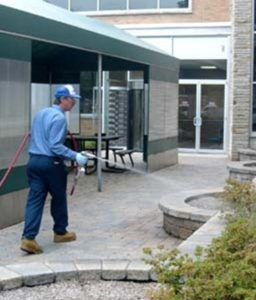 In the commercial setting, being pest-free is an absolute must. The risk of not having a commercial pest control and maintenance program in place could greatly impact your customers and clients, as well as your productivity and your reputation.
At Positive Pest Solutions, we understand that different industries require different commercial pest control services and treatments. Even companies in the same industry often need a different pest management plan. Fortunately, our experienced, licensed and insured commercial exterminators are capable of providing you with customised commercial pest control services for your organisation in Melbourne.
Common Commercial Pests
At Positive Pest Solutions, we believe that proper hygiene and effective pest control are integral to creating a safe and healthy workplace for all. With solution-focused treatments, our team can help to both increase the level of cleanliness and productivity at your business. Below we have listed commonly found workplace pests
One of the most common workplace pests, rats and rodents, are responsible for carrying and spreading viruses and parasites. Rodents are known to gnaw on electrical cables, which can set off fires, causing significant amounts of destruction and damage. They are also known for causing structural and electrical damages, so it is important for you to contact Positive Pest Solutions to resolve this pest infestation.
Similar to bed bugs, cockroaches are hitchhikers and can commonly arrive in your workplace by hiding in your clothes or work items. Cockroaches prefer to live and breed in the dark so they tend to hide at various areas. If you spot one cockroach, there are likely more hiding nearby. In addition to eradicating these pests from your business premises, we will work closely with you to ensure these pests are removed permanently.
Did you know that a large enough infestation of ants can damage product, supplies and even your building? Positive Pest Solutions offer quick, safe and responsive pest control solutions to eliminate this insect.
Spiders are commonly found in warm locations including desks, room corners and air vents. If you have a spider infestation in your workplace, contact the team at Positive Pest Solutions to ensure your spider pest problem is handled quickly.
While it is common to identify bed bugs as typical household pests, they can actually hitchhike with people to their places of employment. Our team is equipped with the products and experience to get rid of this notorious pest and to restore your workplace to normal.
These stinging insects can be a risk for commercial properties. To prevent any possible wasp stings, which can be painful and in some cases, life threatening for those who are allergic, it is best to leave the wasp nest eradication to the professionals.
When termites invade your workplace, you can incur hundreds or thousands of dollars from the damage they can cause. Contact us today for total protection from termites and extermination of any colonies they may have formed.
To deliver effective pest control, we create detailed and well-thought strategies customised to your specific industry and distinct requirements. With our Integrated Pest Management services, we strive to make your property pest-free, freeing you to focus on your business.
Our Commercial Pest Control Services
As one of Melbourne's leading commercial pest control companies, we follow a comprehensive process when it comes to commercial pest management and control. The main process for our commercial pest protection is as follows:
Our commercial exterminators carry out a no-cost inspection to analyse current pest issues. With sound knowledge and industry-leading expertise, we will provide a thorough initial service to set up and address any urgent pest issues. After completing the inspection, we will work with you and come up with a custom plan to eliminate the pests from your property.
Customised Pest Treatment Plan
Our team will create a customised pest treatment plan specific for your business and its surrounding. Depending on a few factors, you will be able to choose between monthly, bimonthly and quarterly commercial pest control treatments. In addition to using the latest in pest control technology and state of equipment to provide the most effective solution, we will conduct regular comprehensive inspections and services to address any pest issues that might arise in between treatments.
Preventive Pest Control Services
We provide preventive pest control services, such as pest-proofing advice, sanitation recommendations, site and environmental analysis, and more. We will also maintain your business pest management logbook. Some of our treatment plans include flexible scheduling and emergency visits.
If your business requires us to visit in between treatments due to an unsolved pest problem that's covered within your plan, we will return at no cost until the issue is resolved. Our trained pest technicians always follow best industry practices to ensure your peace of mind for commercial pest management and pest control.
We Safeguard Businesses Against Pest Invasion
If you are looking for a local pest professional to assist you with your pest problem, look no further than Positive Pest Solutions. Below we have listed commercial properties we currently offer pest control services for:
Educational facilities (schools, universities)
Restaurants & Cafes
Hotels
Retail Stores & Shopping Centres
Corporate Offices
Medical Centres & Nursing Homes
Strata Business
Warehouses & Factories
Integrated Pest Management
Integrated Pest Management (IPM) can be defined as an effective and environmentally sensitive approach to pest management. Our IPM program uses current and comprehensive information on the life cycles of pests combined with available pest control methods, to manage pest damage effectively and efficiently. With this approach, our commercial pest control services in Melbourne will reduce the use of pesticide-intensive activities, reducing potential health risks in the community and minimising the harmful impact on the environment.
Organise Commercial Pest Control Today
Next time you find yourself searching for the top commercial pest control services in Melbourne, contact Positive Pest Solutions to discuss your pest treatment needs. You can reach us by calling 0413 397 270 or book an obligation-free onsite assessment today.