Termite Control & Inspection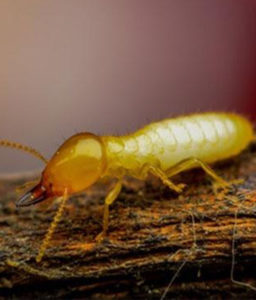 Termites are tiny creatures which are useful to the environment due to their ability to break down dead trees or rotten wood, assisting with the production of manure for plants.
If your home is invaded by termites however, you could incur millions of dollars of damage. If you're in need of termite control in Melbourne and all metro suburbs, Positive Pest Solutions guarantees total termite protection and extermination.
How to Identify Termites Activity in Your Property
Termites are a destructive pest that can cause major structural and economic damage to homes and commercial buildings. Signs that you have termites ravaging on your property include:
– Mud shelter tubes are built by termites for protection. These can often be found in brick foundations or in architraves.
– Sagging floors or doors with easily damaged skirting boards, door jams or architraves show evidence that termites have eaten away at the structural integrity of the timber.
– Areas where the timber sounds hollow and where small knocks can cause damage.
– Cracked paint or plaster.
– Regular power failures caused by termites attracted to the warmth of electrical fittings behind walls.
Temperature, rainfall and the age of your property have the largest impact on termite activity. If you stumble across a termite nest on your property, it's important not to disturb it until you've determined an appropriate termite management plan with qualified experts in termite solutions in Melbourne. Once disturbed, termites may abandon the area and move elsewhere to remain undetected.
Termites not only eat away at structural timbers but also chomp their way through furniture, paper products, fabrics, clothing, footwear and even non-cellulose materials like soft plastics, building sealants and rigid foam insulation.
What Are The Different Species of Termites
All types of termites can cause damage to your home however, knowing about the different species of termites can help identify them more easily for effective termite control in Melbourne.
The location of your property and its component structure will both have an impact on the termite species you could be at risk of.
Subterranean termites start their feeding process from the ground up and typically enter a building through its sub-structure. Properties with ample crawl spaces are especially at risk to Subterranean termites. Look to evidence of damaged wood and mud tubes where hollow tunnels known as galleries have developed along the grain of the wood.
Drywood termites on the other hand, typically enter structures near the roof line or other exposed wood. It's wise to inspect your attic for any evidence of damaged wood where a colony may have been built. Look for tiny holes in the wood with hollow tunnels and frass collecting nearby.
What is Covered in Our Termites Inspection Process And Report
At Positive Pest Solutions, we combine years of experience with the use of latest technologies and practices to provide unrivalled termite control services. Our termite experts have extensive local experience in termite treatment in Melbourne.
We offer two types of termite inspection in Melbourne:
• Standard Termite Inspections – for home or property owners needing their buildings checked for termites, and termite damage.
• Pre-purchase Pest Inspections – for home buyers looking to have a potential property purchase checked for termites and other timber pests (such as borers and wood decay fungi).
Our inspection reports are both comprehensive and accessible. We inspect your property and provide a detailed multi-page report with photos. Our knowledgeable and friendly staff take pride in clearly explaining our findings with you if you have further questions.
Our Termites Treatment & Control Plan
1. Contact
Give us a call and we will arrange for a local expert to contact you within 24 hours.
2. Survey
Our experts will discuss your pest problem with you and arrange a survey to determine solutions tailored to your pest problem.
3. Treatment
Expert technicians will come out to your property at an appointment time convenient for you. Our treatments are both child & pet friendly, as well as environmentally sensitive.
4. Aftercare
We provide guaranteed solutions with prevention advice and as many visits as you require, to ensure your problem is resolved.
Recommended Termites Management Solutions
Reduce Moisture
Ground level should slope away from your house and soil drainage systems should be installed. Be sure your ground water drainage flows away from your home to reduce the amount of moisture entering your property. If you have a damp sub-floor, improved sub-floor ventilation may be beneficial.
Consider removing the watering system or avoid watering plants next to the house. This includes removing substantial garden beds by your property.
Ensure roof guttering and downpipes aren't leaky and correctly discharge to storm water drains.
Make sure any external taps don't drip and ideally have a drain underneath.
Check for leaks in the kitchen, bathroom and laundry. If you suspect a leak, you may require a plumber.
Remove Food For Termites
Don't use wood mulch by your house.
Make sure any waste timber or cardboard boxes are disposed of.
Never store timber under your home on the ground.
Ensure any firewood is stored off the ground and away from your property.
Keep Areas Clear
Keep the perimeter of your home clear of plants and stored items.
If you have a sub-floor, avoid storing your excess or unwanted items in this inviting area.
Stored goods prevent the ability to see any termite activity and also reduce ventilation, while wood or cardboard boxes are highly attractive for termites.
How Often Should You Schedule A Termite Inspection
Termite inspections in Melbourne should be an annual activity however, it may be necessary more than once a year depending on the susceptibility of your structures to be infested by pests. Termite pest control and inspection measures from reputable professionals such as Positive Pest Solutions could save you from considerable damage.
Why Choose Positive Pest Solutions For Termites Inspection, Treatment & Control
• Experts in termite control in Melbourne.
• Thorough and careful inspections & reporting.
• We use the latest termite detection technology.
• Easy to understand written reports with clear photos.
• Verbal report one to one – inspector to client – without any agents.
• Fully licensed (L010674) and insured pest control company.
To prevent massive damages and repair costs, annual termite inspections in Melbourne are recommended.
If termites are detected early enough you could keep damage to a minimum. At Positive Pest Solutions, we strive to ensure our termite solutions in Melbourne are easy and affordable.
Our local termite treatments in Melbourne assesses conditions that could increase the chances of termite infestation and the possible methods of minimising the risk of termite attacks.
Contact us today to find out more about our termite protection services in Melbourne or book an obligation-free quote.