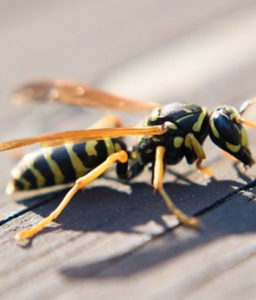 Wasps are small insects, which belong to order Hymenoptera. They are commonly known for their painful sting. Apart from the painful experience of being stung by a wasp, the sting could also be a threat to one's life especially to those who are allergic to stings. Wasps' removal and wasp nest removal are some of the precautions you can take to reduce the risks of wasp stings. We offer wasp nest removal & complete pest control services in Glen Waverley, Mount Waverley & across Melbourne.
REMOVING WASP NEST
It is a dangerous task to remove a wasp nest. This is because the wasps in the nests always feel threatened hence they become abnormally aggressive. As a method of defending themselves, they react by stinging you and any person who could be around.
To do away with wasps, instead of removing the nest, you ought to treat it together with the nesting wasp. Professionals at Positive Pest Solutions will effectively eliminate the wasps and ensure you are safe from stings.
WASP PREVENTION
To prevent wasp infestation, you need to treat the nests early before they mature. You can also make some adjustments in your behaviour and the way you handle drinks and food outdoors to deter wasps. Here are the same preventive measures to control wasps.
Regular checking for nests: the nests are golf size or walnut size when they begin to form. At this early stage, the wasps are few and easier to treat.
Bins safety: bins, which are kept outside, should be tightly fitted with lids. Keeping bins a distance from windows and doors would also reduce the presence of wasps.
Keeping doors and windows shut: this will prevent wasps from entering your house.
To ensure safety and peace of mind when dealing with wasps, it is advisable to seek help from a professional who is skilled in wasp nest removal. Positive pest solutions offer quality services that guarantee safety during wasp removal. Contact us today for all your pest inspection & control needs in Glen Waverley, Mount Waverley & across Melbourne.